Control Panel End of Day Manage Time Cards
Manage Time Cards
The Manage Time Cards page allows you to review time cards, make changes or delete existing time cards, and create brand new time cards all together.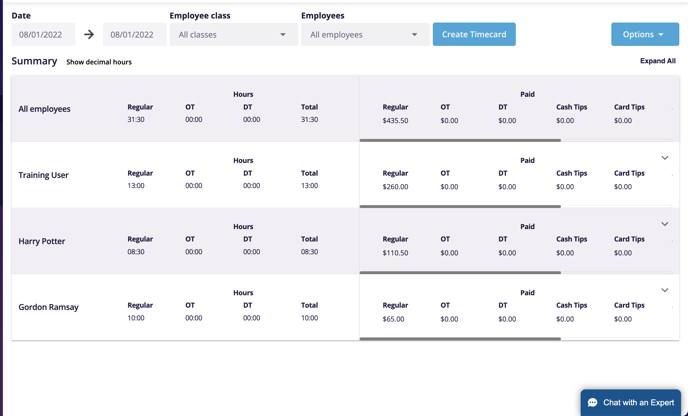 While there is also a place in the POS to review in progress time cards, this page is better suited to make adjustments to time cards.
Like all the other reports, you have access to a Date Range selector (top left corner) and the ability to Export the report under the blue Options button.
By default, you will be seeing every time card from the date range selected. You can filter or search for specific employees by using the dropdown labeled Employee Class or Employees. You can use these drop downs to find a specific employee, but you can also use them to view the time cards for your kitchen staff.
The Create Timecard button is right next to the Employee Class filter. You can use this feature to create an employee's missed punch.



Each time card is displayed as a Summary. Click on the carrot to expand the time card to a Detail view.

You can use Expand All at the top of the time cards view to quickly expand each time card record to the detail view. Once you've expanded, this button will change to Collapse All.
Create Timecard
To create a brand new time card for an employee who forgot to clock in and out, simply click the blue Create Timecard button on the right. You will then be given the following prompt:


Select the Employee from the dropdown menu, as well as their job role under Employee Class. When entering their hours, you can type in "9a" to quickly bring up 9:00am from the dropdown menu. Select the time in the dropdown to add it to the employee's time card.
If the employee took a break instead of clocking out for their shift, be sure to check the box at the bottom of the prompt. You will then need to create a second time card on the same day for the rest of their shift.

Note: You can create rules for paid breaks under Settings in Workforce. Click here to learn more, and scroll down to the section labeled Employee Breaks.

The steps for editing a time card are the same as creating a new time card. Start the process by clicking on the pencil icon to the left of the employee's clock in time.



For any further support, please reach out to our 24/7 customer support team at 833-381-5288, or email support@lavu.com.