Lavu + MenuDrive + DoorDash



Lavu, MenuDrive, and DoorDash are doing their best to help restaurants survive in this challenging business environment. Under the Lavu banner, we are working together to provide a complete online ordering and delivery solution that can be quickly and inexpensively deployed to keep your restaurant operating during the Covid-19 emergency. Here is a quick overview of that solution, starting with how it works.

How it Works
What Is The Cost?
How Do I Get Started?
FAQs


How it Works
Step 1.
Customers place orders on the restaurant's MenuDrive Site.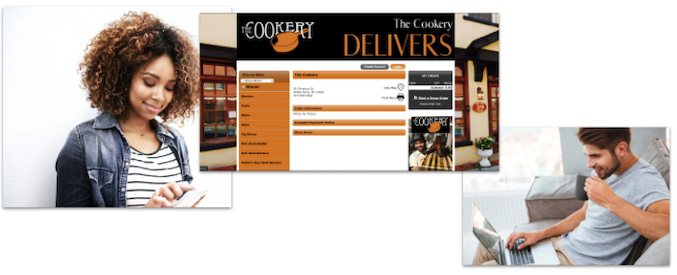 Step 2. If the customer selects "Delivery", they will then enter the delivery details of their order including their address, contact information, and also a tip for the driver if they wish.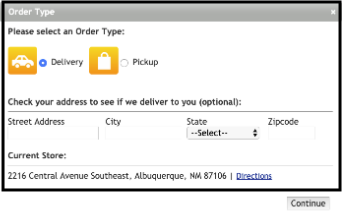 The "Tip" section at bottom is the tip for the delivery driver.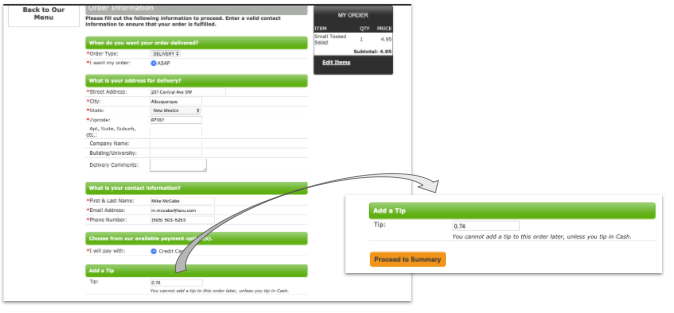 Step 3.
Customer confirms and completes order w/Tip and the $6.99 Delivery Fee included in the breakdown and total.
Once they click on
Complete Order
,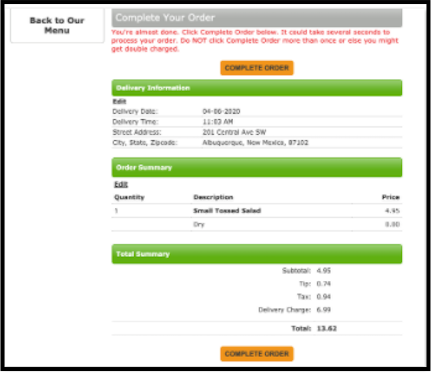 DoorDash will be notified and the restaurant will receive the order to start preparing it to be picked up by the DoorDash Driver.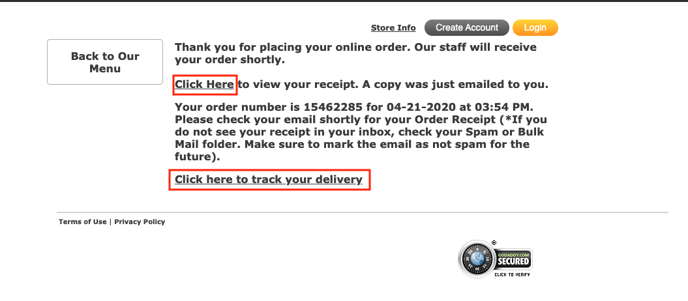 The customer is notified and can view the receipt.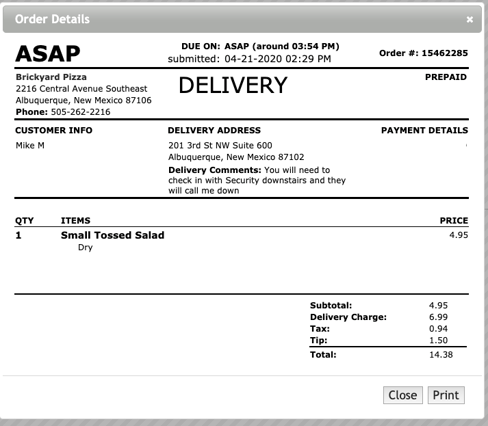 The customer can track the delivery by clicking
Click here to track your delivery
.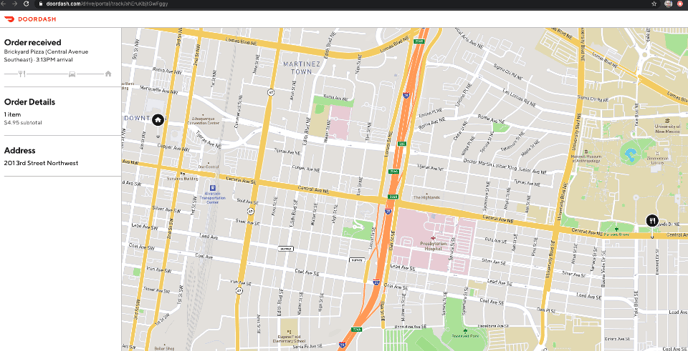 Step 4.
Food is picked up and a text message is sent by DoorDash to the customer.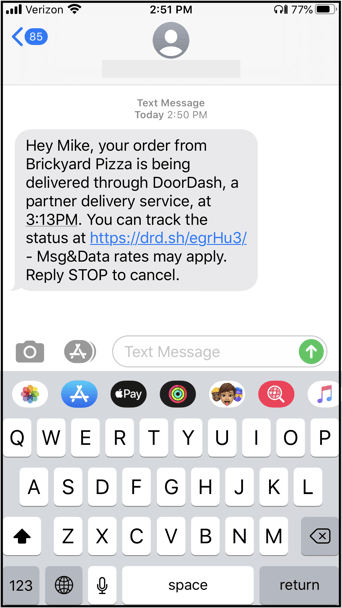 Step 5
. The food is delivered to the customer by DoorDash.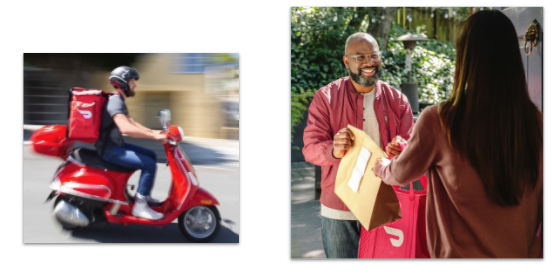 What is the Cost?
To Your Business?
There is no additional cost to you. You will only be charged the normal percentage of the amount Lavu Pay processing rate for the total order amount.
To Your Customers?
The customer pays the total bill + delivery fee + any tip they wish to leave the driver.
How Does DoorDash Get Paid?
DoorDash bills Lavu for each $6.99 fee as well as any tips entered for the delivery drivers. Lavu then bills/deducts the fees and tips daily from your account and pays them to DoorDash.
FEE/COST BREAKDOWN

Your customer pays: Item(s) $ Total + $ Delivery Fee + Tip (optional)

You receive: Item(s) $ Total + $ Delivery Fee + Tip (if any)

Lavu bills you: $ Delivery Fee + Tip (if any) + X% of the total order amount

DoorDash bills Lavu: $ Delivery Fee + Tip (if any)
How Do I Get Started?
It's easy, just log in to your MenuDrive Admin Control Panel and follow these steps in order.
On the Admin Control Panel, choose Location Profile.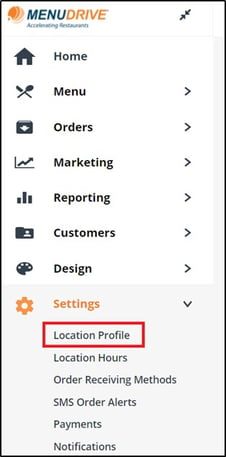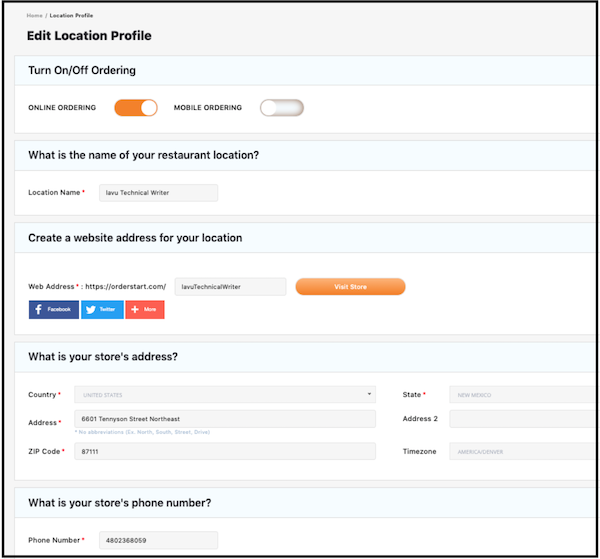 Scroll down to "What type of orders do you accept?"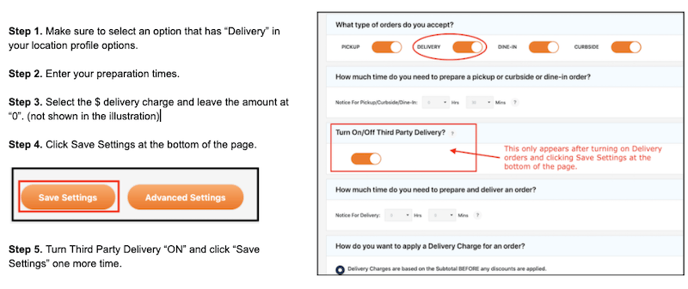 You are now ready to take and deliver orders to your customers!
FAQs
How large is my store's delivery radius?

The delivery radius is typically 3-5 miles. This is based on geographical location (city vs suburbs).

How long should I wait before contacting DoorDash if a driver is late?

If the Dasher is more than 15 minutes late, contact DD support at (855) 973-1040.

I remade an order because a Dasher was late. How can I seek reimbursement?

This Dasher did not meet my restaurant's expectations. What should I do?
For any urgent issues that need immediate attention, contact DoorDash support at (855) 973-1040.
For performance issues that are not urgent, send an email to drive-support@doordash.com.
| URGENT | NOT URGENT |
| --- | --- |
| Dasher 15+ min late to the store | If the guest has a complaint & wants a refund |
| Dasher took the wrong food | If a dasher was rude to store or customer |
| Customer calls the store & cancels | Billing/Refunds processing |
For any further support, please reach out to our 24/7 customer support team at 505-535-5288 or email support@lavu.com.