Manager Handbook: Introduction to Restricting User Actions
Manager Handbook: Introduction to Restricting User Actions
There are various ways of restricting user actions depending on how a business prefers to operate. Lavu provides several options to customize user access based on management preferences. Control Panel access can be restricted, as well as actions performed within the Lavu Application.
OVERVIEW
Restricting actions begin with setting the appropriate Access Level per user. A description of Lavu Access Levels can be found in the linked support article.
Access Levels are selected when a user is first created. They can be modified on the Control Panel > Workforce > Manage Users page.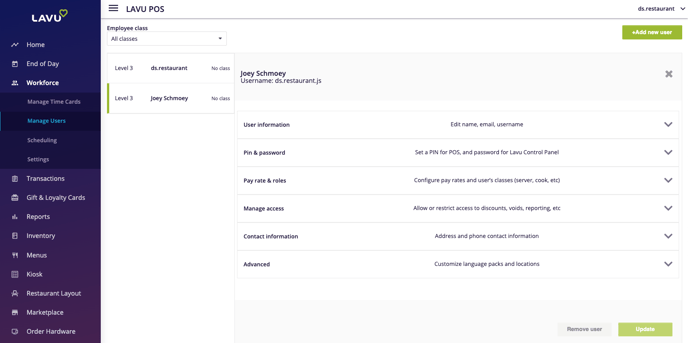 Just select the appropriate user with a mouse click. The selected user is marked with a green line.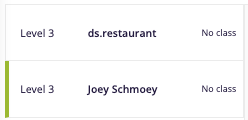 The details for the selected user are grouped under 6 labels. The details can be viewed by clicking the expand icon
, and hidden using the collapse icon
. You'll need to use the scroll bar provided on the right side of the Manage Users page once you've expanded a label.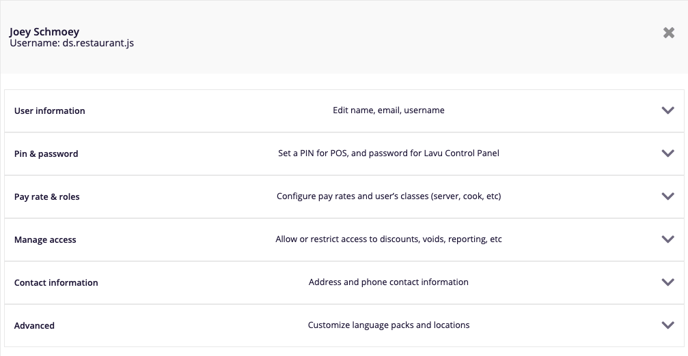 Once the user has been selected, their Access Level can be changed by expanding the Manage Access label.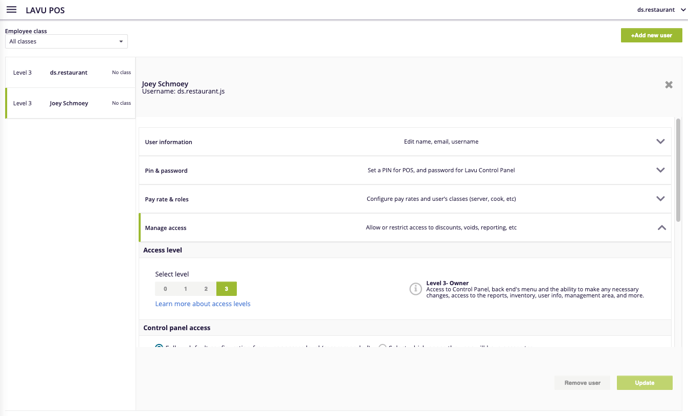 Click the desired Access Level. Press Update on the bottom right to ensure changes take effect.
RESTRICTING CONTROL PANEL ACCESS
By default, only users with Access Level 3 and higher can access the Control Panel (Backend). Users must know their unique username and password to log in.
On the Manage Users page, there are various ways to restrict access to the Control Panel pages that a level 3 or level 4 user can access by default. To see the pages that can be restricted scroll down from the Access level.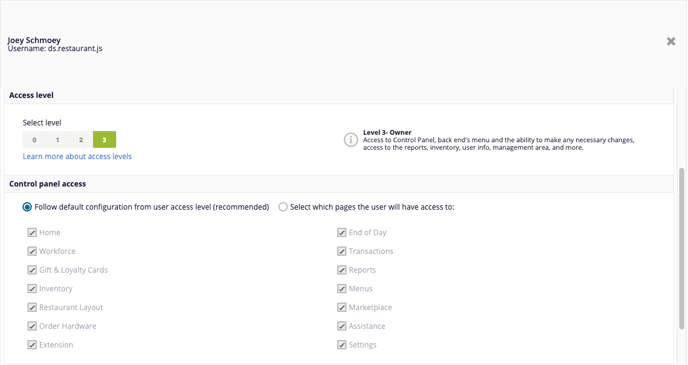 First click the radio button "Select which pages the user will have access to:"


A check mark means the user has access.

Press Update on the bottom right to ensure changes take effect.
In the example above, the user has access to the Home page, Inventory page, End of the Day page, and Reports page.
You can also deactivate (or activate) a user. Just scroll down to see this Activate / Deactivate user section. When deactivated, the user will NOT have access to the Lavu Control Panel or the Lavu 4 POS.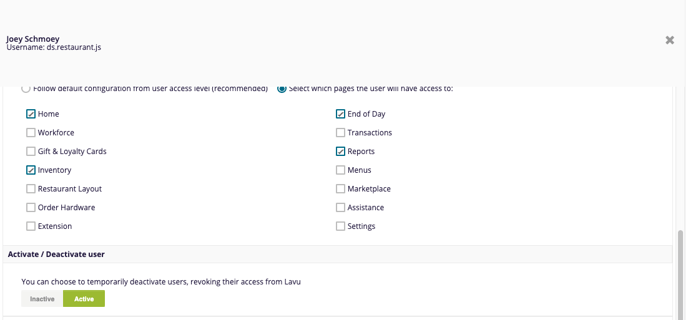 Clicking the Update button is necessary if you are making a user Inactive.
RESTRICTING LAVU APPLICATION FUNCTIONS
Staff will have access to functions within the Lavu application depending on their Access Level and the Settings > Location > Advanced Location Settings designation corresponding to each function.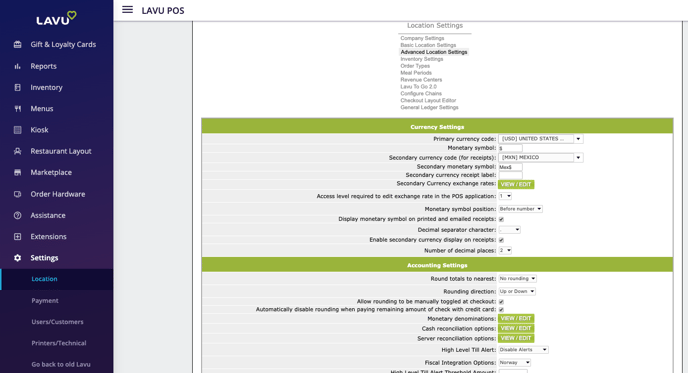 Advanced Location Settings is broken into multiple sections with several options for customization. To find a specific setting, it is helpful to utilize a search function (Ctrl + F on Windows, Command + F on Mac).
The following list represents restrictable actions and settings available in the Advanced Location Settings.

Note: For settings affecting the POS app, " Require Admin PIN" refers to a frontend admin of Access Level 2 or above.
Accounting Settings
Access level required to grant tax exemption
General Interface Settings
Restrict order access by the server
Access level required for Manager Functions
Access level required for Management Tools
Access level required to transfer a table
Access level required for Deposit and Refund Functions

Order Options
Access level required to manually override item prices
Access level required to edit and remove saved items
Access level required to edit and remove sent items
Prevent servers from clocking out when they have open orders
Prevent servers from printing Server Summary when they have open orders
Access level required to open an order that is already open on another device
Minimum access level required to manually enter weight

Check Out Options
Access level required to manually toggle gratuity
Access level required for generic discount types
Access level required to void items
Require admin PIN to void orders or checks
Require admin PIN to void payments or refunds
Require admin PIN to perform refunds
Access level required to open cash drawer
Access level required to open cash drawer when entering payment
Access level required to force close an order
User Settings
The access level for which to block PIN usage when the user is clocked out
Disallow user from clocking minutes before/after shift
Reports
Restrict servers from accessing their own server summary