An article detailing some general troubleshooting methods for your Epson kitchen and receipt printers.
Overview
Troubleshooting printers is often a matter of logically identifying the issue and trying common solutions. Lavu Customer Care (833-381-5288 or support@lavu.com), Certified Lavu Resellers, and local IT professionals are used to troubleshooting any network or printer issues. Lavu is sometimes limited in its ability to troubleshoot printers remotely. If in the process of troubleshooting, any changes are made then it is important to attempt a test print after each change.
Note: Testing Kitchen printers require a brand new ticket creation (after reloading settings) with each test. Existing tickets retain prior settings, which is problematic for testing.
For hardware issues or warranty issues past 30 days of purchase, direct Epson support can be reached at 562-276-1314 (press option number 3).
Many of the troubleshooting methods mentioned here will apply to ALL Epson printers. Any differences between models will be pointed out in the specific steps.

Here is a short list of officially supported Epson printers. If you have any questions about whether or not your printer is supported, please reach out to our support team at support@lavu.com, over the phone at 833-381-5288, or chat at lavu.com.
TM-U220B
TM-U220-i (Epson KDS setups only)
TM-M30
TM-M30II
TM-M30III
TM-T20II
TM-T20III
TM-T88V
TM-T88V-i
TM-T88VI
TM-P20
TM-P60
TM-P80
Identifying The Issue

Use the following diagram to narrow down the issue: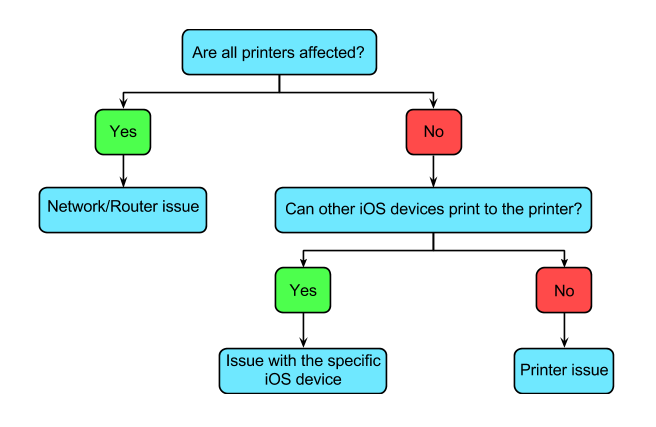 Please click on the links below to troubleshoot network and iPad-related issues, as this article will focus on troubleshooting specific to printers.

Basic Router Troubleshooting
iPad Troubleshooting Guides.
Check the Basics
Before diving too far into technical troubleshooting, you should first check the following to see if checking these resolves your issue:
Ensure your printer is properly powered.
You should see a solid green or blue light on the front of your printer. If the light is blinking, it means the printer is powering on. You may also wish to reference the error codes below if you see a different blinking red or orange light on the front of your printer.

Ensure your printer is connected to your network.
Where your network cable connects, you should see flashing red and green lights. These flashing lights indicate an active connection. You should also see flashing lights on the port on your router or switch where your printer is connected. If you do not see either of these lights, check the cable for any cuts or tears, and also ensure that it is fully connected (you should hear a click when the cable is fully plugged in). You should also try a different ethernet cable if one is available.

Note: The TM-M30 printer does not have lights above the network cable on the printer.
Try turning the power off and back on again.
Power cycling electronic devices will force them to stop and reset any processes they may have been running. We recommend leaving a printer off for 30 seconds before turning it back on again.
Check other basics like printer paper jams and dry ink ribbons.
If you are running into issues with printers not printing, or printing blank pages, check for paper jams. On kitchen printers like the TM-U220B, try swapping out the ink ribbon with a new one to see if the one being used was simply dry. Receipt printers (or thermal printers) like the TM-M30 and TM-T20II do NOT use ink ribbons, so this issue will not affect them. However, if the non-thermal paper is put into thermal printers, only blank pages will print.
Most Common Error Message: Failed to Write
There are two common reasons why an order or receipt would fail to print.
The IP address of the printer has changed
The wifi network on the iPad has changed
The second case is very easy to resolve. Simply go into your iPad's wifi settings, and ensure you are connected to the appropriate wifi network. Most commonly we see iPads "jump over" to a guest network. We recommend you Forget Guest Networks to prevent this from happening in the future.
In the first case, we need to determine what the printer's IP address is, and then update it accordingly in the Lavu Control Panel.
To find the IP address, locate the reset button on the back of the printer. Normally you will find this to the right of the ethernet port (network connection). On the TM-M30, you will find it next to the connection for your cash drawer cable.
Once you have found the button, use a pen or a paper clip to hold the button down for 5 seconds, then let go. You will get a long printout shortly after releasing the button. Be sure the printer is already powered on while holding the reset button.
Epson TM-T88V-i Note: Do NOT hold the reset button longer than 5 seconds. This will cause an Epson TM-88V-i to reset to factory default settings if the button is held for 10 seconds and then released.
The IP Address is located in the Wired TCP/IP section near the bottom of the printout:
Once the IP address has been printed, we can update the printer IP settings in the Control Panel (Set-Up: Epson Printers). Please see Printer Error Messages to identify when an incorrect IP address may be causing an error. Printers should have a unique, static IP address on the network. Static IP addresses are set from the printer itself, not the router. Read Set-Up: Epson Printers for assistance setting a static IP address.
Note:
If the printer fails to pull an IP address, please double-check the network connections and ensure the ethernet port lights show connectivity. Epson printers will print a 192.168.192.168 IP address when there is no network connection. Once a connection has been restored, power cycle the printer to print a new IP address.
Clear the Cache when printing random letters and numbers.
If you ever run into an issue where instead of printing your order or receipt, the printer gives you an assortment of random letters, numbers, and symbols, you need to clear the cache.

This may also resolve issues if you notice your printer is a bit delayed when pressing "Send" or "Print Check" on your POS.
To clear the cache on all Lavu supported Epson printers:
Turn the printer off.
Hold down the feed button.
Turn the printer back on while holding the feed button.
A page will start to print, and release the feed button.
When the page has finished printing, tap the feed button once more.
This will cause a second page to print and the cache will be cleared.
Power cycle the printer.
Printer Error Messages:
Error Message

Common Causes

Failed to Write to IP

Incorrect Printer IP Settings

Network/Router Issues

Incorrect Network

Time Out Error

Failed to Connect

Network Communication Error

Incorrect Printer IP Settings

Network/Router Issues

iOS Device Connection Issues

Incorrect Network

Unable to Find Printer Command Set

Incorrect Settings in the Control Panel

Settings Not Reloaded

No Error

Register Not Selected

Printing is Disabled

Miscellaneous

Unknown Status Error

Status Check Failure

Unknown Reasons
The preceding table of error messages helps narrow down and resolve printer issues. If problems persist contact your Lavu Certified Reseller, a local IT Professional, or Lavu Customer Care (833-381-5288 or support@lavu.com) to resolve this issue.
Factory Reset
A Factory Reset will restore the printer back to factory default settings. This is not recommended as a standard troubleshooting step until all other steps have been exhausted. The following information is provided for educational purposes and can be useful in setting up an Epson printer on a newly configured network.
To Factory Reset an Epson printer:
Turn off the printer.
Press and hold the reset button on the back of the printer (normally located to the right of the ethernet port).
Turn on the printer while holding the reset button.
Wait until a message prints indicating that the printer is resetting.

To Factory Reset an Epson TM-T88V-i printer:
Press and hold the reset button on the back of the printer (located to the right of the ethernet port) for approximately 10 seconds, and release. The printer will print a message stating it is resetting and that the printer should not be turned off.

Error Lights
Is a red error light blinking on the front of the printer? The following images define the Epson error light messages: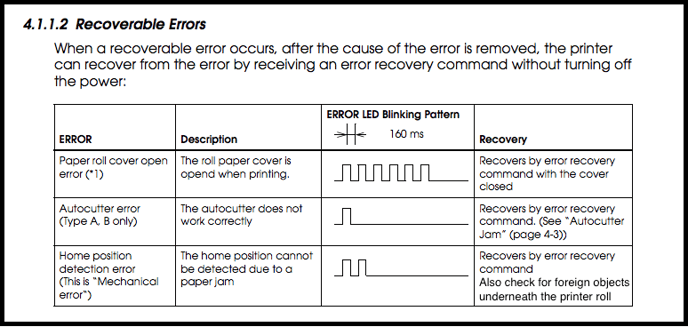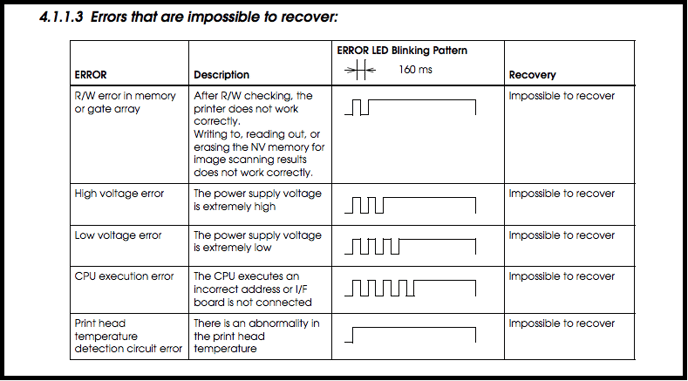 For Epson error light messages, please contact direct Epson support at 562-276-1314 (press option number 3).
For any further support, please reach out to our 24/7 customer support team at 505-535-5288 or email
support@lavu.com
.