A breakdown of each setting in User Settings under Advanced Location Settings.
Advanced Location Settings is home to numerous important and vital settings. It is absolutely necessary for each location to become familiar with these settings and how they effect the functionality of the Lavu POS App.
In User Settings, the following settings can be defined:
Auto-Exit Order
Auto-Exit Server
If a Clocked Out user can use the system (SECURITY)
Each of the settings in User Settings are integral ways of improving the SECURITY of the Lavu POS App.
AUTO EXIT ORDER & SERVER
The settings here are all related to auto-exiting an order. There are four options are presented:
No - At no point during the ordering process will the Lavu POS App auto-exit to the PIN screen.
iPads Only
iPods Only
iPads and iPods
Select one of the above described options for each of the following settings:
Auto exit order after save
Auto exit order after send
Auto exit order after print checK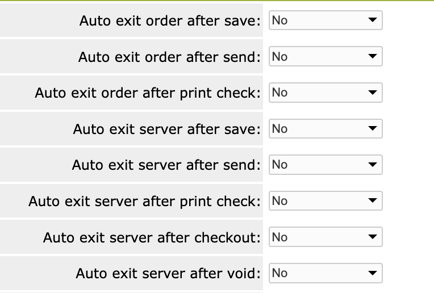 OTHER SETTINGS
Enable or Disable Employee clocking in becomes active server. This setting allows users to clock-in and automatically become the active server, even if another server was signed into the Lavu POS App on the device immediately prior.

Select an option from the Auto exit server upon employee clock out drop-down menu. This setting is important for SECURITY reasons.

No - If the user is actively using the Lavu POS App and clocks out, the App will remain logged in under that user's PIN.
When employee is active server - When an active user clocks out, the Lavu POS App will redirect to the PIN screen.
Always - Regardless of the status of the user clocking out, the Lavu POS App will return to the PIN screen.

Select an option from the Access level for which to block PIN usage when user is clocked out drop-down menu. The access level selected and below will not be able to use the system without clocking in first. It is recommended that all locations utilize this setting.

Select an option from the Disallow user from clocking minutes before / after shift. This setting prevents your employees from clocking in too early or clocking out after an inappropriate amount of time after the end of their shift.

Once all changes have been made, scroll to the bottom of the Advanced Location Settings page and click Save.
In order for the changes to take effect in the Lavu POS App, be sure to Reload Settings on all devices.
For any further support, please reach out to our 24/7 customer support team at 833-381-5288, or email support@lavu.com.