End of Day - Tips & CC Batching
This section of the module does exactly what its name says it does. You can review and edit tips submitted by your servers through the app, add tips that have not been added, and submit these tips to your processor. You can also use this page to capture authorizations (if you are using AUTH transactions) and manually settle your batch for the day.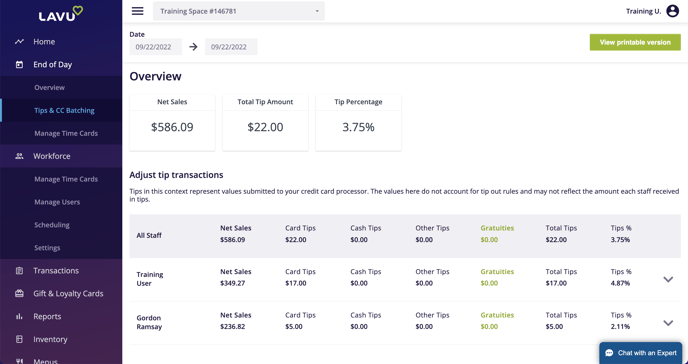 Reviewing Tips
The tips section displays a summary of tips earned by all staff who were clocked in during the date range you have set. You can click on the carrot icon on the right to review and edit the server's tips.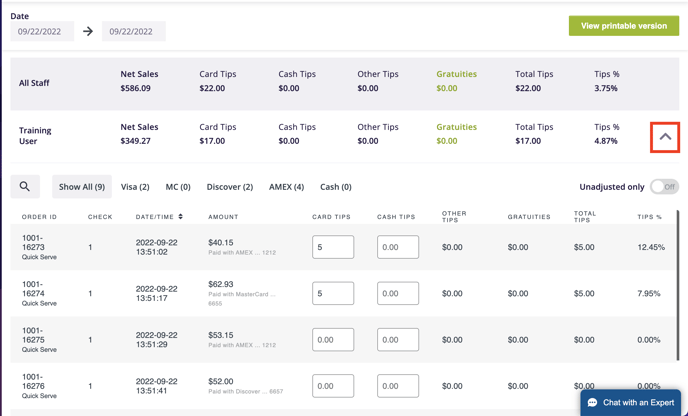 Simply add or adjust tips under either the Card Tips column, or the Cash Tips column.

When you are finished, click the green Submit Tips button at the bottom of the list of tips.



You can make changes to tips for most processors up until the point that you settle your batch. You must contact your processor to add tips to a transaction if you have already settled your transactions.

Capturing Authorizations
This step is only required if you use the AUTH transaction type in Card Integration Settings. The below example is set to Sale.





Capturing authorizations is what will actually pull the money out of your customers' banks and add it to your merchant batch.

The Review Tips & CC Batching page will automatically adjust to suit your needs based on your Credit Card Integration Settings. Your page will look like the image below if you are using AUTH and there are authorizations to capture. You will not see the CAPTURE AUTHORIZATIONS button if there are no authorizations to capture.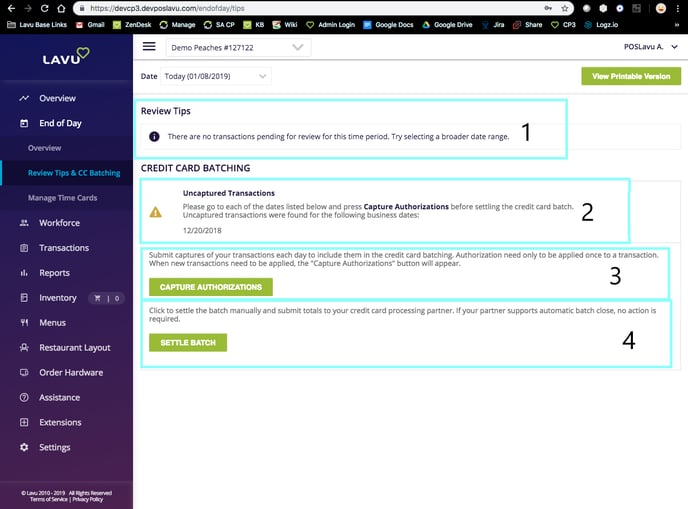 Simply click the green Capture Authorizations button to initiate the process with your processor. If you do not see this button, you will not need to complete this step.
Batching
The last function on this page allows you to manually settle your batches. We recommend setting up automatic batching with your credit card gateway so you never have to worry about this part.

Whether or not you are setup for automatic batching or not, the option to manually trigger a batch will always be available to you.

Simply click Settle batch button to initiate a batch settlement with your gateway.



For any further support, please reach out to our 24/7 customer support team at
505-535-5288
or email support@lavu.com.