A general walkthrough article that shows you how to use Detours in the Forced Modifiers page of your menu.
Detours are a way that you can apply multiple forced modifiers to a single menu item or category. These are best used when only one or a couple modifiers need additional information for the kitchen staff to properly prepare.
A common example is a forced modifier list asking about sides for a sandwich or burger. Among the options is a House Salad. When a customer at a restaurant orders a House Salad as their side, the server will also need to know which dressing they would like. In the POS, we can accomplish this with detours.
Create the Forced Modifiers
Our first step is to create both lists of forced modifiers. One for my options for sides, and the other for the options of salad dressing.
Once both modifier lists have been created, click Save at the bottom of the page.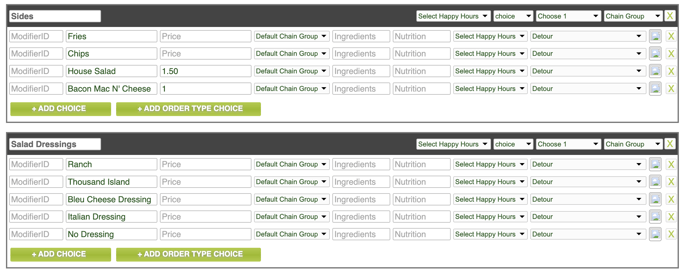 Note: Notice that both of these are Choice Forced Modifiers. Detours cannot be used on Checklist Forced Modifiers.
With both modifiers created, I'll just need to select Salad Dressings from the drop down labeled Detour.

What this creates is the ability for a server to quickly ring up an item with sides, and finish the order by selecting a side like Fries or Chips. However, if the customer wants a House Salad, they will also be asked which dressing they would like with their salad.
How it Looks on the POS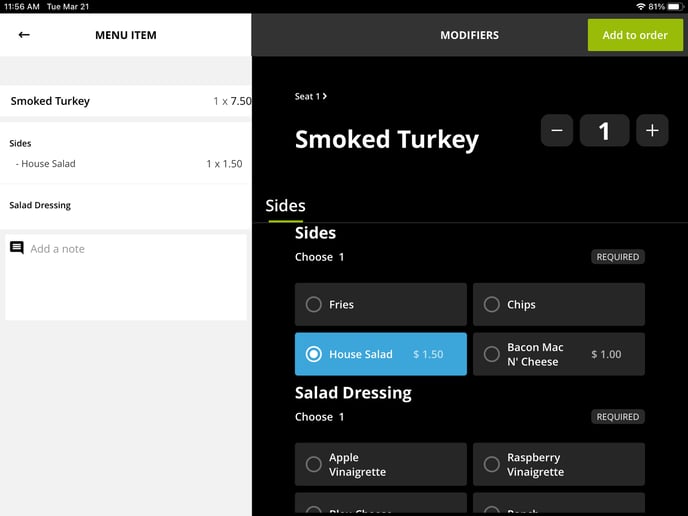 When a modifier with a detour is selected, the additional list of forced modifiers will appear below your first set of options. This creates a fluid and easy to use workflow for any server.
Difference between Detours and Modifier Groups
If you are familiar with modifier groups in Lavu, you may be noticing a lot of similarities. You may also be asking what the difference is, and when should I use one over the other.
The basic difference is that detours are option specific, while modifier groups are not.
Detours depend exclusively on what a customer chooses from the first list. Modifier groups don't care about what the customer chose from the first list, they are going to get the second list regardless.
The image below illustrates this concept and may help better your understanding.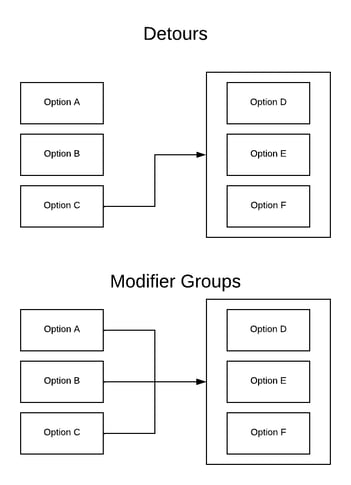 For any further support, please reach out to our 24/7 customer support team at 505-535-5288 or email
support@lavu.com
.