Inventory: Transfers
Transfers
Note: Transfers are only available to chained locations. If you need assistance with connecting your Lavu accounts, click the link below, or please reach out to our support team.

Transfers should be used if you are moving stock from one location to another. This works very similar to recording Orders. Instead of using a vendor, you are using another location in your chain.

Start by navigating to your inventory page, and click on Transfers.

To start a new transfer, click on the action button (three dots in a vertical line), and select Create Transfer.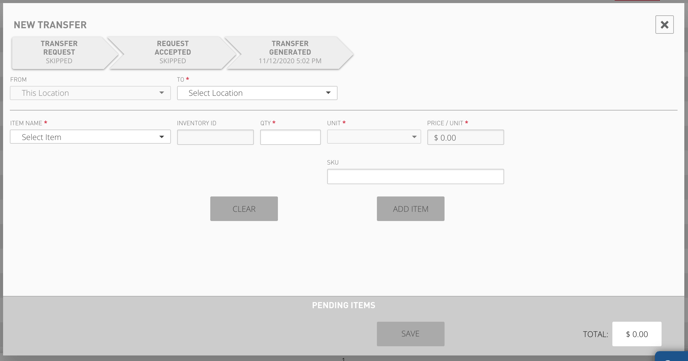 Simply select the location you are transferring to, the ingredient you are transferring, and the quantity of that ingredient. Click on Add Item to add it to your Pending Items list. Once all of the items have been selected, click on Save at the bottom to create the transfer and set it to a Pending status.

When you are ready to ship the items to your second location, click on the new pending transfer, and click on Ship Items. At this point, the transfer will be placed into a Sent status.
The last step needs to be done by the account that you transferred stock to. Navigate to transfers, click on the Sent transfer. Enter in how much you have received and click Receive.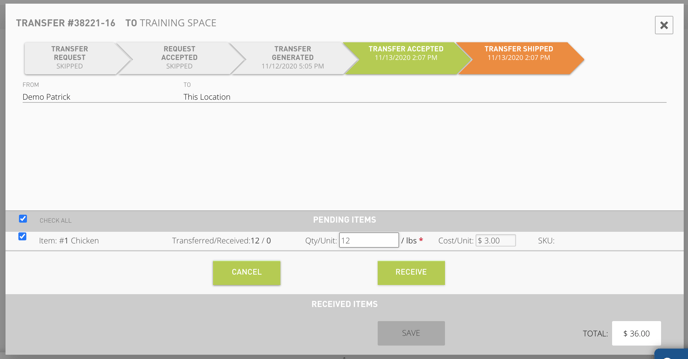 At this point the transfer will be completed. Transfers can take place over multiple days so there is no need to conduct all of these steps at once.