Lavu Gift - Adding Gift Card Items
Gift cards are a great addition to any restaurant, especially around the holiday season. Lavu makes it easy to sell and redeem gift cards through out own gift card program called Lavu Gift.
Adding a gift card as an item to sell can be done in one of two ways:
A Gift Card that your customer decides how much they want
Fixed gift card amounts that your customers can choose from
The setup for either of these is very simple, and differs very little. When you first purchase Lavu Gift, our onboarding and customer support teams will be ready to assist you and your staff with selling, redeeming, and managing your Lavu gift cards.
Click here to learn more about how we can support gift cards from other providers.
Adding Gift Card Items
Gift cards can be added to your menu just like any other food & drink item. Pick the group and category you want your gift card item to live in, and click the green button labeled
Add Item
. Label the gift card item however you want, and if you are creating fixed amount gift cards, enter the price to the right. Otherwise leave it as $0.00.

For your Forced Modifier, be sure to select
*Lavu Gift
. It must be the option with the asterisk (*) next to it. If you do not see this as an option, please reach out to our support team to ensure your account is properly setup for Lavu gift cards.
This forced modifier is important for loading, re-loading, checking the balance of, and voiding Lavu gift cards.
If you are creating gift cards with fixed amounts, simply repeat this process until all of your options are created. If you are creating gift cards where your customers can decide how much they want, click the green
Details
button on the far right to open up the item's settings.
Scroll down until you see the option for Open Item. From the dropdown, select
Price Only
. This will allow your servers and cashiers to enter a custom price for the gift card each time they ring one up.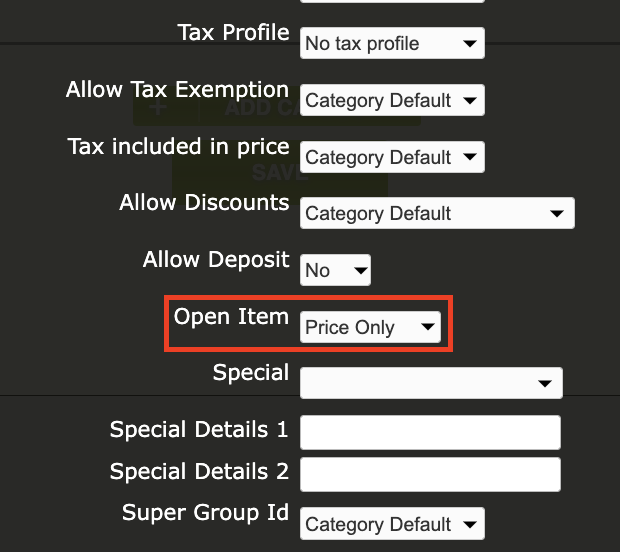 Be sure to click the green
Apply
button at the bottom of the settings page, and click
Save
on your menu to save your new gift card item(s).