Marketing - Loyalty and Rewards
Navigate to the Loyalty & Rewards section of the Admin Control Panel by clicking on Loyalty & Rewards on the left side menu, under Marketing
.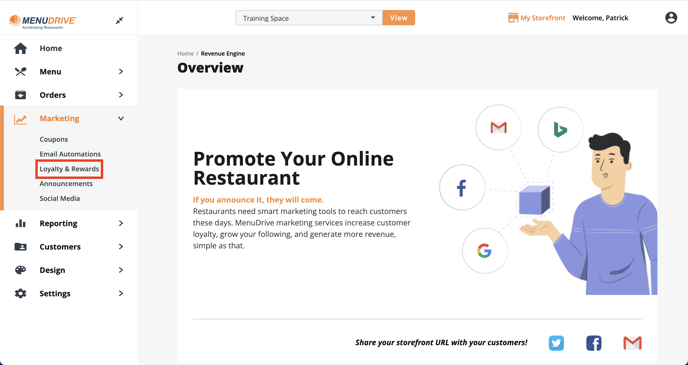 Use the turn ON/OFF Loyalty Program
slider to turn your loyalty program from off to on.
Enter a title for your loyalty program. (EX: Pizza Points)

Choose whether you want the customer's rewards to be earned by the number of orders they place or by the amount of dollars they spend.
If you chose Dollars Spent above, choose how many points the customer will be rewarded for each dollar that they spend. Also, choose whether you would like those points awarded to be based on the customer's subtotal or their total.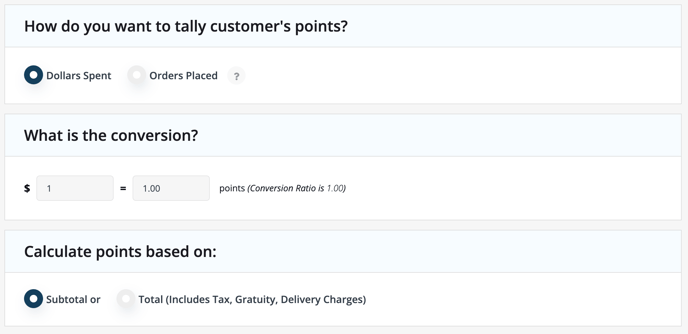 If you chose Reward Orders Placed above, choose how many points the customer will be rewarded for each order they place.

If you choose to award points based on if the customer likes your Facebook page, enter the amount of points you would like to award them as well as your Facebook page admin ID.

Enter the terms and conditions of your program. Click the
Save Settings
button to complete the creation of your rewards program.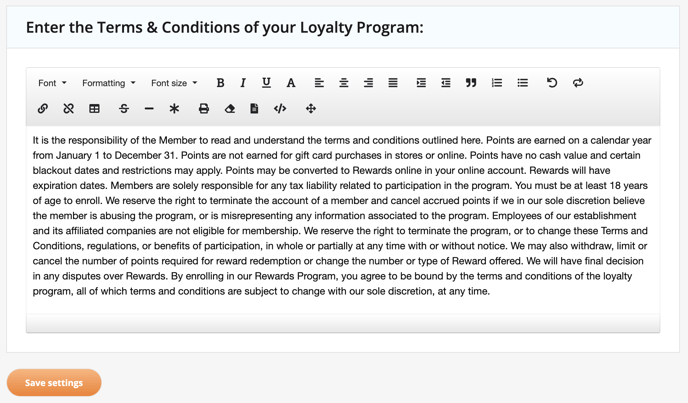 Adding Rewards to Your Loyalty Program
On the loyalty and rewards page in the admin control panel, click on the Add New Reward button, near the bottom of the page, to start adding a new reward.

Enter a title for this reward in the title box. (EX: $5 off your next order). Enter a description of what the reward is and how to use it.
Enter the amount of points required to redeem this award. (This amount of points will be subtracted from the customer's loyalty account when they redeem this award).
IMPORTANT: In order for the customer to use the reward, a corresponding coupon must be attached to this reward.
Check the Allow this reward to be redeemed more than once box if you would like your customer to be able to redeem this reward more than once. (This just means that the customer can redeem this award every time they have enough points and choose to purchase this reward with their points. This does not mean they can use the coupon attached over and over again).
Click CREATE to save this reward.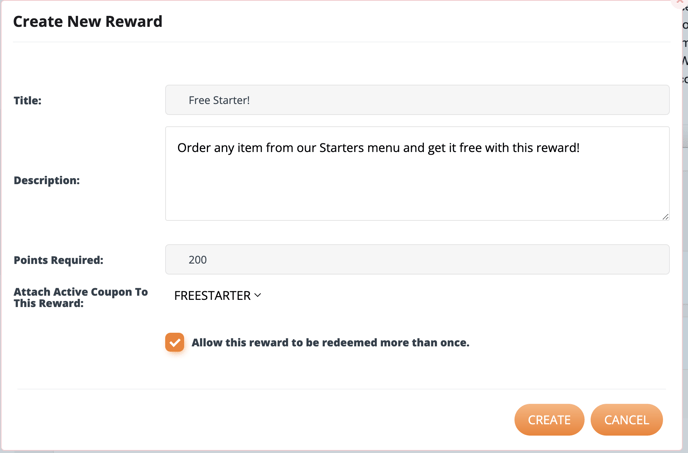 For any further support, please reach out to our 24/7 customer support team at 505-535-5288 or email support@lavu.com.