A short article that reviews the settings in the Custom Options page in the Menu Drive Control Panel.
The Custom Options tab in Payments allows you to create customer
payment methods
, and
custom charges
. Both are easy to do and can be completed in minutes.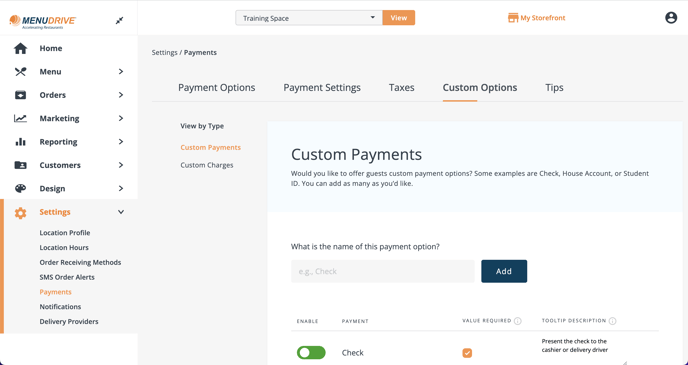 Create Custom Payment Methods
Custom payment methods can be used to give your customers more options for paying for their orders. The only defaults Menu Drive provides, are cash and card.
To create a custom payment method, simply give it a name, and click
Add
.

Once it has been created, you can check the
Value Required
setting, to ensure your customers enter something at checkout. If you require a value, we also recommend you create a "tool tip description". This can help your customers better understand what they should enter on the checkout.

Create Custom Charges
Creating custom charges allows you to add charges or service fees on top of your customers' totals. Menu Drive allows you to create custom charges on all orders, orders paid with cash only, or orders paid with cards only.

To add a new charge, give the charge a name that will appear on your customers' receipts, and determine how much of a charge will be applied. You can give a fixed custom charge, or a charge based on a percent.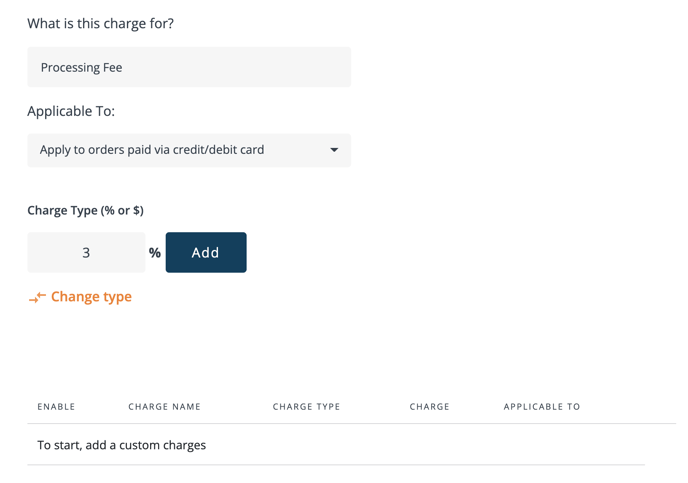 NOTE: Creating delivery fees is done through Location Settings on the Admin Control Panel.



For any further support, please reach out to our 24/7 customer support team at 505-535-5288 or email
support@lavu.com
.