Setup your IP Printer to receive your online orders from Menu Drive.
Order Receiving Methods - IP Printer
One of the ways you can choose to receive orders through your Menu Drive site, is through a supported IP Printer. Our preferred printer partner is Epson. Please reach out to our support team to make sure your printer is supported. There are a handful of steps that need to be completed to setup your IP Printer for Menu Drive. These steps will need to be carried out by your Internet Service Provider, or an IT tech.
Set a static public IP address (not required but recommended)
Set up port forwarding to port 9100 on your router (required)
Once those are taken care of, follow the steps below to set up your IP Printer in your Menu Drive Control Panel.
Identify Your Public IP Address
A public IP address is required to send orders from the Menu Drive website to your printer in the restaurant. You can find your public IP address in a number of ways. The easiest way is to google "What is my public IP address?". You can also use a website like whatismyipaddress.com to find your IP address. Whichever method you use, make sure you use the IPV4 Address.

Take note of that address, as it will need to be entered
Enter Settings in the Menu Drive Control Panel
Next we will enter those settings into the Menu Drive Control Panel.
Set Printer Brand to Epson
Set Printer Model TM-T88V
Set Paper Size to 80MM::3.15"
Set Characters Per Line to 42
Set Destination Address to you public IP address, followed by a colon, and the number 9100 (see image below for reference)
Set Number of Copies to an appropriate number
Click Save Settings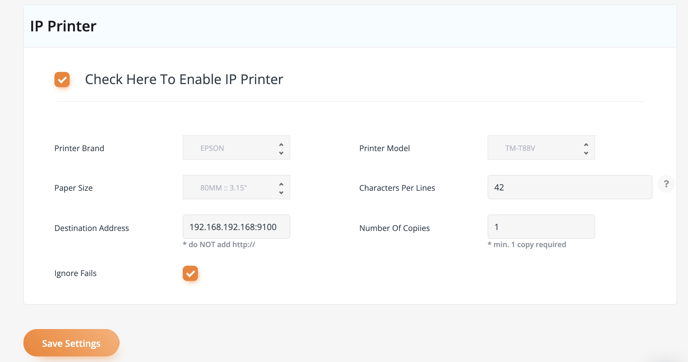 Note: If you do not set a static public IP address, it can change. If it does, you will need to update the Destination Address here.


For any further support, please reach out to our 24/7 customer support team at 505-535-5288 or email
support@lavu.com
.