How to set up schedules for employees on Control Panel?
Scheduling
Lavu's scheduling platform is a great way to create and manage your employee's schedule. When a schedule is created, your staff can access their schedule online at my.poslavu.com, or you can export your schedule and print it.

Note: If you plan to use my.poslavu.com for your employees, make sure they all know their username and password.
Actions Button
This drop-down is located at the top right of the scheduling page. It gives you the options to:
Duplicate a previous week – use this action to quickly import schedules from previous weeks.
Print – the current schedule.
Hide Estimated Pay – use this action before printing your schedule for your employees to view.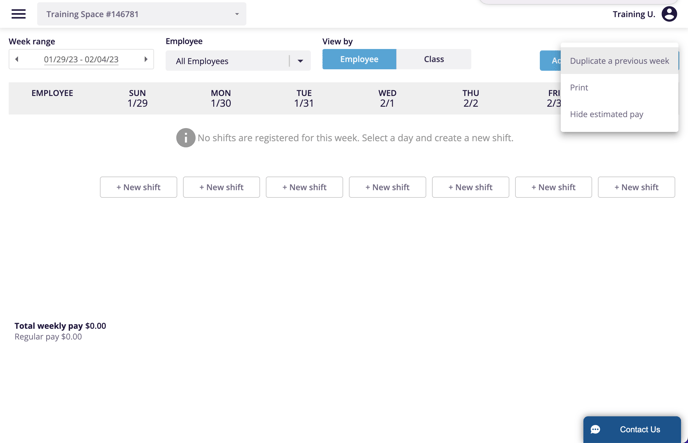 Add/View Notes
This option is located at the top right of the scheduling page. It gives you the options to view and add notes for the week being scheduled. These notes will not show for the employees in the web portal, they are meant only for your management team who have access to this page.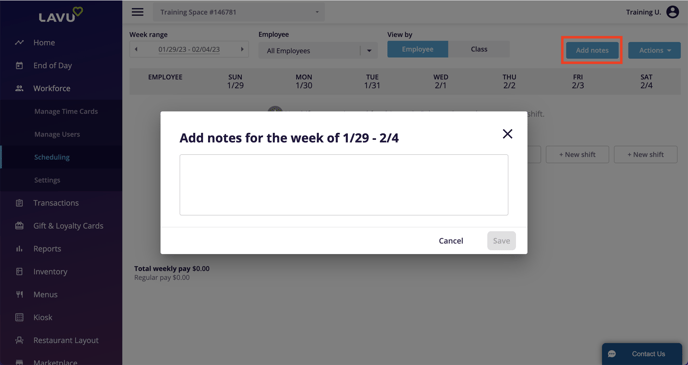 Adding Shifts
The shift in this example includes multiple employees, serving in multiple roles (Employee Classes), copied to multiple days. It makes use of all of the functionality of this new scheduling tool. You can easily adapt the instructions here to create less complicated, or more complicated, schedules.
You will need to click on the + New Shift button on the day that you want to start on to launch the scheduler. This example begins on Monday.
Open the Workforce – Scheduling Module
Click on + New Shift
Select the first Employee
Select the Class they will work as during the shift
Click + Add Employee
Repeat steps 1-5 until all employees are added
Enter the From and To times
Click on all of the days the shift will Copy to
Click Add Shift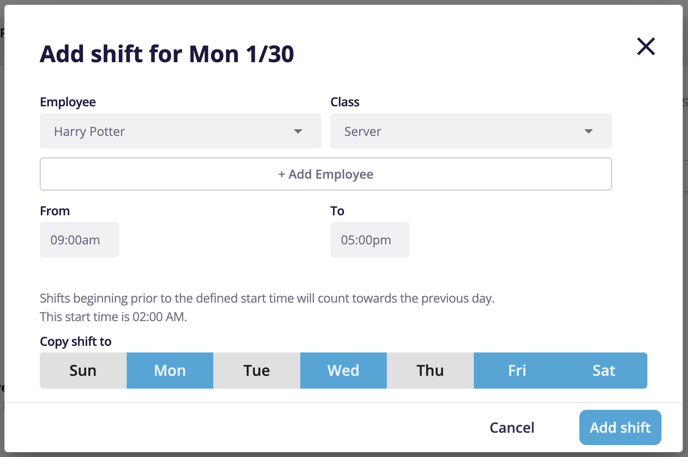 That's all there is to it! Remember to have your employees check out my.poslavu.com to see their schedule online and request coverage. Otherwise, you can export your schedule and print it for all your employees to see.
For any further support, please reach out to our 24/7 customer support team at 505-535-5288 or email
support@lavu.com
.