Lavu Reports - V1 Time Cards
This article reviews the version 1 Time Cards report. We recommend that you use the new and improved time cards report, which includes information about your employees' tips and any gratuity collected. Click here to learn more about the new time card report.
Time Cards Report
The Time Cards report allows you to review punches for specific employees, or all of your staff at once. You can also adjust time punches, change job roles, and even delete time punches.
To get to this report, follow the steps below:
Log into the Lavu Control Panel (cp.poslavu.com).
Click on Reports.
Click on V1 Reports.
Under General, click on Time Cards.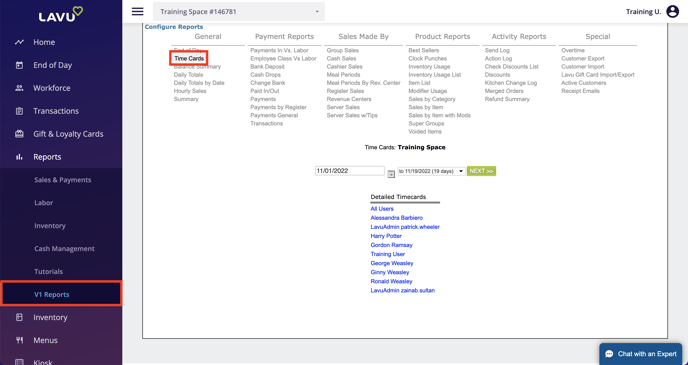 From here, you can choose to set a date range to view your payroll period. To view time cards, you can pick a specific employee, or select All Users at the top of the list.

Note: Creating a new time card can only be done when you select a specific employee. You cannot create a new time card when viewing All Users.

To create a new time card, click the button at the bottom of the page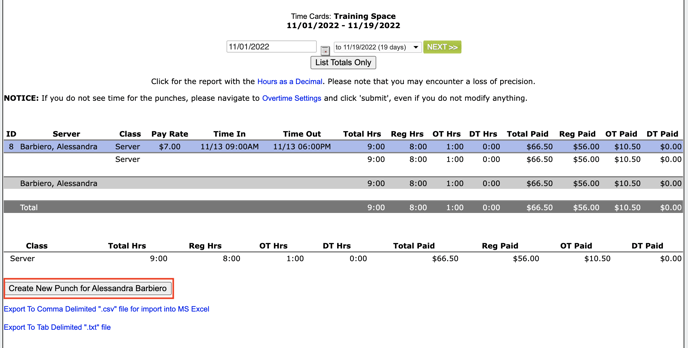 To adjust an existing time punch, simply click on the row of the time punch, and you will get the following screen.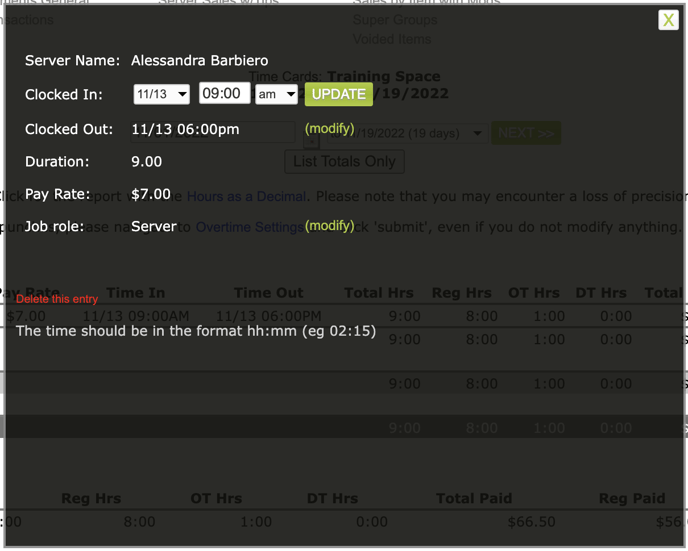 Note: When setting a new time, be sure to enter the time with 4 digits (e.g. 09:00 will work, but 9:00 will not).

At the bottom of the page, you will see options to export your report as a CSV file (which can be used in programs like Excel), or a text file.

Viewing Decimals
By default, the time cards report will show the total time an employee has worked in hours and minutes. If you want to see this in decimal format, click the link at the top of the report. Note that this WILL cause the report to lose accuracy in calculating total pay.
For any further support, please reach out to our 24/7 customer support team at 505-535-5288 or email
support@lavu.com
.